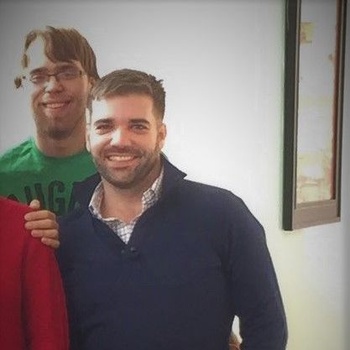 Matt and Dan met on an app five years ago. Which App? Yes that App!

Dan was working at the ALS Association during the peak of the Ice Bucket Challenge. After a month of texting, and two dozen terrible ice puns later, Dan finally came up for air and stopped giving Matt the cold shoulder.

They had a meet-cute at the barber shop where Dan was getting his haircut. He spotted Matt walking by in a tank top and texted him an invite to stop by. Matt came back gussied up in a dress shirt and gave everyone in the barber shop homemade chocolate chip cookies.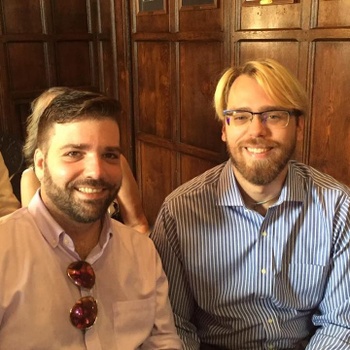 Their first date was at an FSU alumni bar in DC. Despite the fact that Matt wore his mother's bedazzled jeans and her vintage FSU t-shirt with the neck cut out Dan decided to stick around.

They started "going steady" a month later after a Clean Bandit concert. Since then there is no place they'd rather be than together.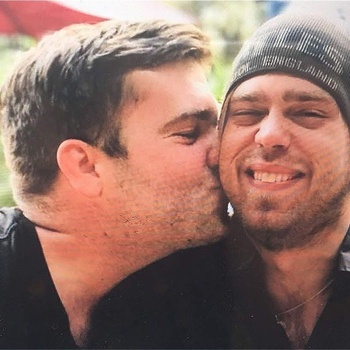 Picture it...it was 2017 and Matt was on month 12 of a most amazing adventure...

Matt spent the better part of 2017 traveling the world with 50 people who started as strangers and quickly became an extension of the family who were eagerly awaiting his return to Virginia. 

Matt and this gaggle of beautiful humans, the Kaizens, were in Mexico city celebrating fond memories from the past year.  Of course Dan had to be there for the revelry, but what Matt didn't know was Dan had a surprise up his sleeve....

So Dan gathered a few of the Kaizens together for an impromptu happy hour at a beautiful beer garden. Everyone (including Matt) just thought this was an excuse to gather before the planned festivities of the evening. Once everyone had arrived, Dan started a toast to Matt and to the Kaizens. Of course he choked up pretty quickly and couldn't get through the whole thing, but thankfully Matt still said yes.